01/12/2010
Thankyou to everyone who donated to Movember over the course of last month. We managed to raise a whopping $280.00 for research in depression and prostate cancer research!!
---
05/11/2010
The handle and the bars are a little disconnected but the mo is starting to grow! Click here to DONATE
Also – I have added 'Snacks' to the recipe tab
---
01/11/2010
Movember!
My favourite fundraiser of the year is here again, check out my profile at movember.com/
I'd love to raise $200 this month for prostate cancer research and men's depression, and just to show that i'm serious – If I get to that total by 30/11/2010, I'll keep the mo until Christmas!
---
24/10/2010
Recipe for Koshari has been added HERE
Study on the benefits of Power Balance wrist bands HERE
Review of the Nike+ GPS iPhone app HERE
Young Coconuts Vs. Sports Drinks HERE
What causes a "stitch" HERE
---
26/09/2010
I have spent the last 3 months developing a novelty product for my current clients that are having difficulty losing fat in those troublesome areas.
It's a product called – "Fatloss"
If you are interested in an 8 week trial of Fatloss tablets, email me for more information.
---
28/06/2010
I have just setup our Winter competition. Everyone is welcome to join in (including your kids, partners and friends). It should be fun to watch our progress over the coming weeks!
---
19/05/2010 (10PM)
I have just added new Ingredients, new Nutritional info, new Gadgets, more News and updated the FAQ
---
19/05/2010
The auction ended just after 11am this morning and we managed to raise $103.50 for The Children's Hospital at Westmead! Thanks to everyone for bidding and also spreading the word.
I've also added new links in the news section.
Keep an eye out over the next day or so as I'll be adding a great recipe for chicken and barley soup and our latest feature ingredient is black turtle beans.
---
12/05/2010 (10PM)
WOW!! The Auction has already shot up to $50.00 and we are only a few hours in, I'm absolutely thrilled! Thanks a million to Kelly for getting things rolling.
---
12/05/2010
The Auction is now running! Click HERE to have a look.
I'd love to raise as much as possible in the next 7 days, so email it through to anyone you think might be interested!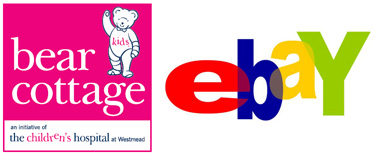 ---
11/05/2010
News items have been added to the LINKS tab. They are interesting, light reading about all things health and fitness. Check out the article – "Beautiful Women Can Be Bad For Your Health".
---
8/05/2010
My little fundraiser auction on eBay for the Childrens Hospital at Westmead (Bear Cottage) has been approved and will kick off on Tuesday afternoon. The auction will run for 10 days and I'll add a link from this website once it has started. I'll post more details closer to the day…
---
6/05/2010
A feedback survey has been added through the good people at surveymonkey. It lets you tell me what you like, what you don't and what you'd like to do more of! The whole thing remains anonymous so please be as honest as possible.
---
5/05/2010
I've just added a Quinoa (keen-wah) recipe and a little history. Each week after our grocery shop on I'll feature a new ingredient that I've never cooked with and let you know how it goes!
---
4/05/2010
I have uploaded some information about the fun new fitness products up on offer this weekend at the Expo – there are pictures and links if you want a little more info.
Links to Joanna McMillan-Price's lectures from FILEX have been added to the Nutrition tab with a concise 6 point guide to healthy weight loss compiled by me.
---
3/05/2010
Just finished three days at FILEX (The southern hemisphere's largest Health and Fitness Convention) at the convention centre in Darling Harbour. Presenters of note included Dr Joanna McMillan-Price, Michol Dalcourt, Paul Taylor, Ish Cheyne and Jay Blahnik. I will include links to their respective websites and put up concise versions of their notes from the weekends presentations.
---
1/05/2010
Website has just been updated –
FAQ has begun, there are three common questions answered to get the ball rolling but please send through your own questions and I'll answer them ASAP.
---
30/04/2010
The new site is now LIVE!! I'm pretty happy with the design and most of the typo's and bugs have been ironed out. Please be patient over the next few days while I get everything up to match-fitness though.